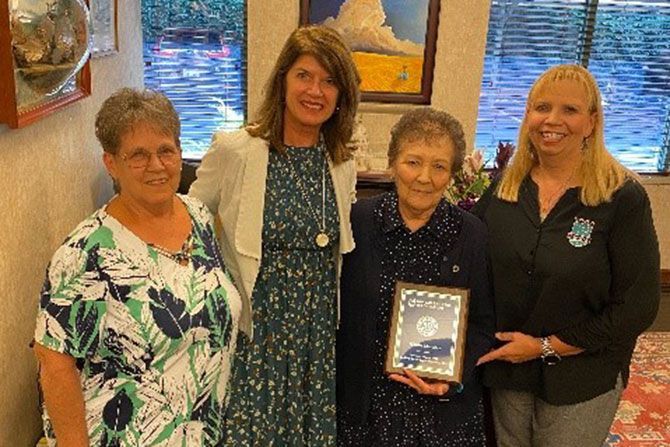 Martha Martinez, Bank of Prairie Village, Celebrates 50 Years in Banking
Congratulations to Martha Martinez on her 50 years in banking! She started her career as an Executive Assistant to the Regional Trust Department EVP John Owen from 1970-1994 at Commerce Bank in Kansas City, Kansas. From 1994-2000, Martha was then the Executive Assistant to the new Trust Department EVP Dan Bolen. Martha was then Dan's assistant from 2000-2003 at Capital City Bank in Topeka and Kansas City. She remained Dan's Executive Assistant when moving to Bank of Prairie Village in Prairie Village from 2003-present day. Some of the highlights of Martha's career have been working directly for Dan Bolen for 28 years and for three banks. Martha has been a lifelong Kansas resident. She is the mother of U.S. Army Veterans and two Johnson County Sheriff Department Officers and also the grandmother of a high school all-American soccer player. Martha has played a key role (along with KBA's Terri Thomas) in the establishment of what is now The Bank of Prairie Village and Blue Lion Bancshares, formerly Hartford State Bank.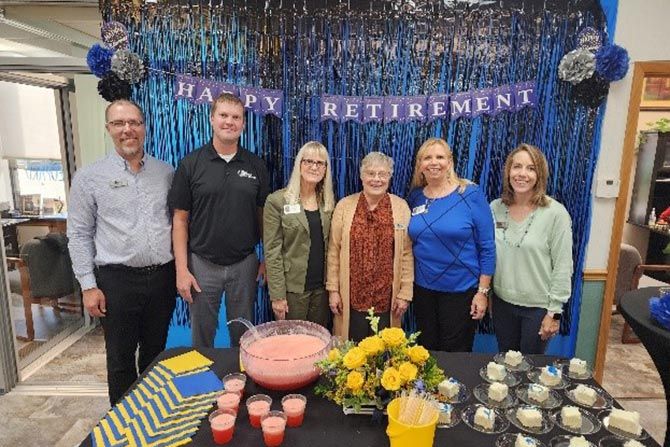 Happy Retirement to Nancy Cone, Bank of Tescott!
After 40 years in banking, Nancy Cone retired from the Bank of Tescott in Lincoln. Her career started in 1982 with the First National Bank of El Dorado as a bookkeeper and loan secretary. In 1990, she transitioned to Saline Valley Bank, now Bank of Tescott. Throughout her career, she held various positions and ended as the bank's BSA/CRA officer. Travel and working on her farm are the things she is looking forward to the most during her retirement. Enjoy, Nancy!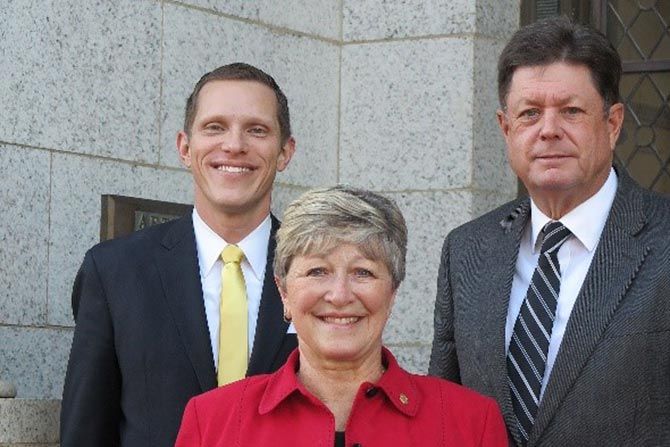 Susie Keith Retiring After 47 Years from Exchange Bank & Trust, Atchison
Vice President, Susie Keith, retires from Exchange Bank & Trust after 47 years of dedicated service. She joined the Bank on Aug. 11, 1975, after graduating from Atchison County Community High School in Effingham, where she was raised. She was well-experienced in multiple facets of banking and served in several capacities during her time with the Bank. Her previous positions included Customer Service Representative, New Accounts Clerk, Teller, Receptionist, Loan Processor Loan Administration Officer, Vice President, and Chief of Loan Operations. Her involvement included consumer lending activities and supervising loan administration functions. Susie has resided in Atchison County her entire life and has devoted much time to her family and assisting with a variety of county-wide charitable and civic projects and events. Among these are Relay for Life to raise awareness and funds in the fight against cancer; Atchison Area Chamber of Commerce Farm-City Agriculture Committee; Leadership Atchison and the annual Atchison County Fair Parade. Susie and her late husband, Dickie, happily raised two daughters and have five grandchildren with one on the way in 2023.
President Chuck Swinford stated, "Susie has been a valuable part of the bank for the last 47 years. When I first met her, it was evident that she held a strong work ethic, she was an innovative thinker and dedicated to the job, the bank, and her customers. I am personally grateful for her leadership."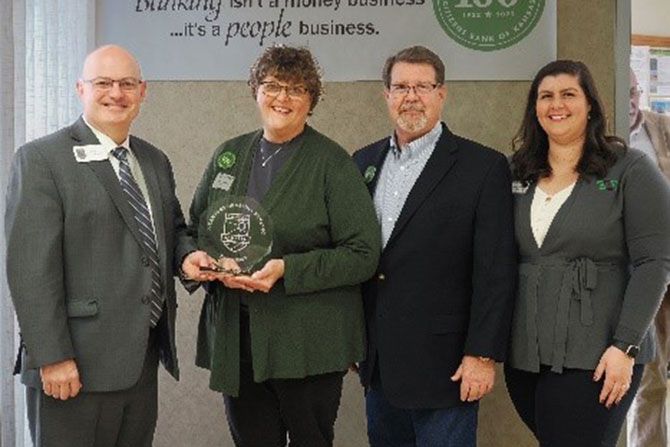 Deterding/Keeny Family at Citizens Bank of Kansas
Citizens Bank of Kansas celebrated 100 years of family ownership in 2022, culminating with Open Houses at all 10 branch locations on Friday, Dec. 2, 2022. The family story starts in 1922 in Cowley County, Kansas. "My great-grandfather Herbert H. 'Bert' Smith and his cousin C.V. Foust purchased The Citizens State Bank in Atlanta, Kansas – the predecessor to Citizens Bank of Kansas," said Jane Deterding, Chairman of the Board of CBK and fourth-generation banker. "Ray J. Deterding was Assistant Cashier at the bank and continued in that position under Bert Smith. In 1925, Ray Deterding married Inez Smith – the banker's daughter – and became president of the bank shortly thereafter." The third generation joined the Bank in 1962. After working as a bank examiner for the FDIC for five years, Max S. Deterding, son of Ray and Inez Deterding, purchased the controlling stock of another rural Kansas bank, Turon State Bank. After Ray's death in 1963, Max purchased the Citizens State Bank stock of his grandfather, Bert Smith, to maintain controlling shares for the family. Max Deterding was the visionary for the future of the Bank, acquiring several community banks in south-central Kansas. He was active in the Bank for over 40 years. Continuing the tradition of family ownership and management into the fourth generation, Mark Keeny – husband of Max and Shirley Deterding's daughter, Amy – joined the Bank in 1993 after four years as a bank examiner with the Kansas State Banking Department. Mark served as Cashier and Executive Vice President; he became President/CEO in Dec. 2002, and currently serves as CEO. Jane Deterding, daughter of Max and Shirley Deterding, joined the bank in 2001 as General Counsel, Executive Vice President/ Chief Strategic Marketing Officer. She is also Chairman of the Board of Directors for CBK. Sarah Keeny Moon, daughter of Mark and Amy Keeny and fifth generation banker, joined CBK in 2019 as an Accounting Analyst.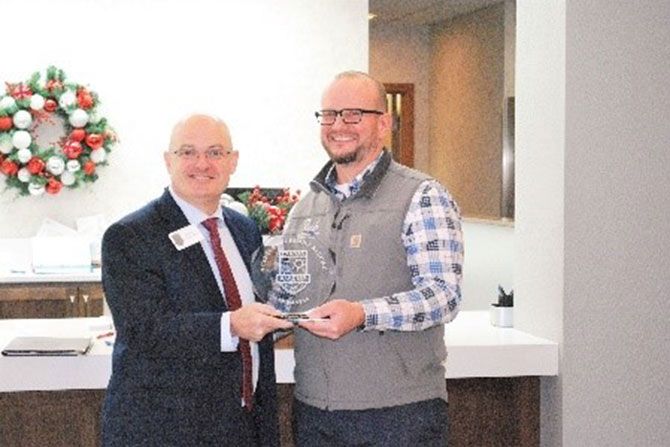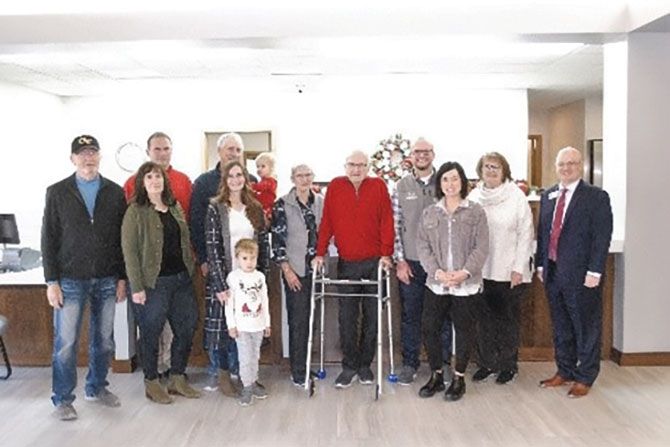 Kennedy Family from First National Bank in Frankfort
First National Bank in Frankfort and the Kennedy family turned 100 years old in April 2021 but due to the pandemic, the celebration was postponed. The bank was started in 1921 when a group of area residents was granted a charter to become a national bank. The purpose of the business started due to several surrounding banks failing and/or leaving town. The original investors wanted to provide service to the community and surrounding areas. While technology has changed, the mission to provide banking services to the community and area has not. They have shown growth since the beginning.
Among the founders was James W. Kennedy, who was then a farmer/rancher in the Frankfort community. He was elected President of the Bank, the first of four generations of his family to hold that position. First National Bank is the only bank in the county that remains family owned with headquarters in the county. William F. Kennedy spent his career as the second generation President and he bought many of the minority shareholders' shares to put the majority of ownership in his family. William J. and Joseph P. Kennedy were the third generation to serve as President. Jay P. Kennedy is currently the fourth generation. Current ownership includes Jay Kennedy, his mother Marybeth Kennedy, his aunt Martha Miller, the trust of his late aunt Nancy Padden and W.J. Kennedy.
Jay Kennedy said in an article covering the 100-year celebration of the bank, "Frankfort and the area have been good to our organization, and it is our goal to be good in return. Turning 100 was a big deal that was dampened by the pandemic. We are fortunate that the pandemic didn't hit us as hard as most. Turning 100, whether a business, a community or an individual is a big deal. We are excited to start the next century.
The bank has remained in the same location on 2nd and Kansas Street in Frankfort since day one. It has survived the Great Depression, the financial challenges of the 1980s, the 2008 recession and the pandemic. Congratulations to the Kennedy Family and to First National Bank!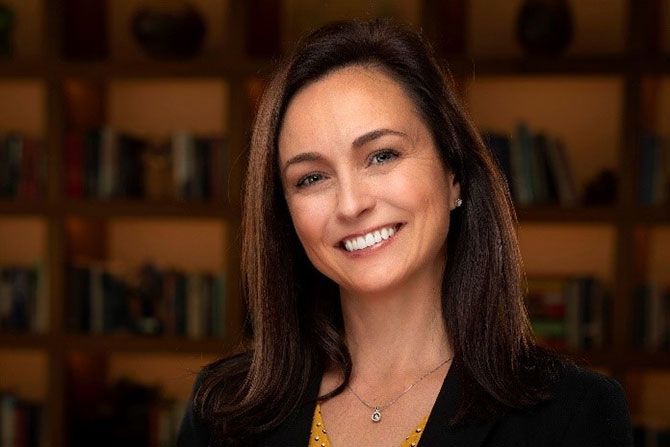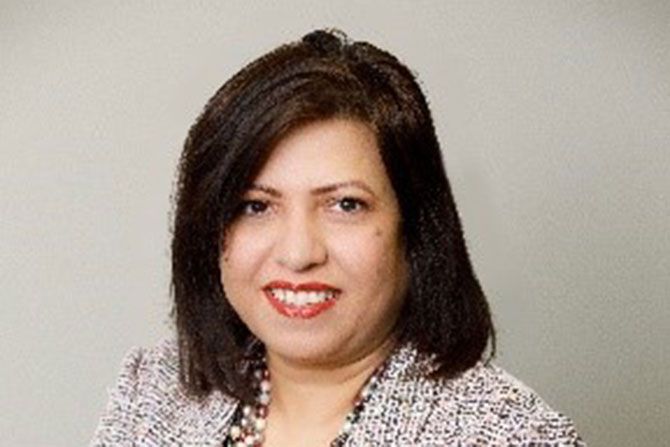 The Trust Company of Kansas Welcomes New Employees
The Trust Company of Kansas (TCK) is pleased announce that Nicole L. Easton has been recognized by the American Bankers Association as a member of the Under 40 in Wealth Management, Class of 2023. These awards recognize wealth management and fiduciary professionals who are committed to the highest standards of achievement at work and in their communities.
Nicole L. Easton is a Vice President & Trust Officer at The Trust Company of Kansas. With over 15 years of experience in financial services, Nicole has developed a passion for serving her clients with excellence. Her keen attention to detail keeps her focused on the financial aspects of her clients' lives so that they can stay focused on their priorities. Nicole has a proven track record for creating tailored plans that help people accomplish their saving, investing, retirement, tax, and estate planning goals.
Nicole graduated from Oklahoma State University with a Bachelor of Science degree in Accounting. She is both a Certified Public Accountant and Certified Trust and Fiduciary Advisor. She is actively involved in the Wichita community, serving as President of Wichita Estate Planning Council, Trustee of the Mary R. Koch Arts Center, Membership Committee member of Rotary Club of Wichita, and a seventh-year active member of Junior League of Wichita.
The Trust Company of Kansas (TCK) is also pleased to add an experienced wealth management professional to its Wichita team.
Tarzia Nabi joined The Trust Company of Kansas (TCK) Wichita office on Jan. 1, 2023. She will be responsible for developing and executing TCK's investment strategy, including leading the company's Investment Sub-Committee team with a focus on carefully managing assets for an optimum net annual return — one of the best measurements of a wealth manager's value. Tarzia comes to us with 10 years of experience in the trust industry as a portfolio manager. Prior to her trust industry experience, Tarzia spent several years working as a successful wealth management advisor. She will make a great addition to the TCK team.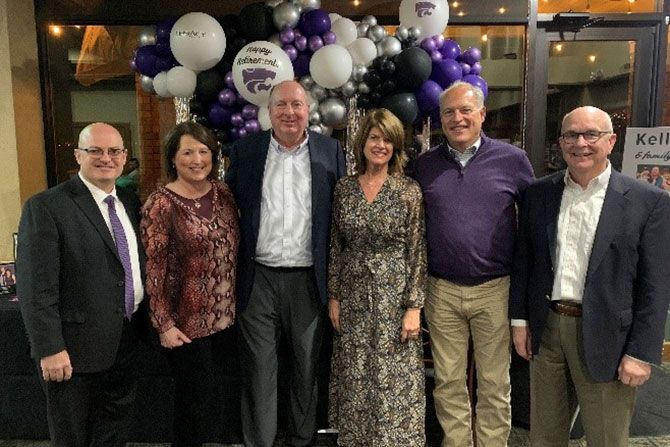 Mason Retires from Legacy Bank
Kelly Mason retired from Legacy Bank effective Dec. 31, 2022. Kelly joined the Legacy Bank team Sept. 10, 2018, as Senior Vice President of Commercial Lending when Legacy merged with and acquired First National Bank in Pratt. Kelly brought with him 30 years of banking experience as a CEO of two rural community banks. Kelly was the CEO of FNB Pratt (1999-2018) and Chairman of the Board of FNB Pratt (2009-2018). Prior to his time at FNB Pratt, Kelly was at State Bank of Kingman (1989-1999) first as a Vice President and then in 1991 as CEO. Kelly also served on American Bankers Association committees and is past chairman of Kansas Bankers Association. In 2019, Kelly & Barb moved to Wichita and he was elected to serve on the Colwich Financial Corporation and Legacy Bank Board of Directors. He will continue to serve on the Board at Legacy Bank.