Featured above: Testifying to US House Sub-Committee for Rural Business and Credit-May 2016

Shan Hanes, KBA's incoming board chairman, is the president and CEO of Heartland Tri-State Bank, which has branches in Elkhart, Attica, Arlington and Rolla. Shan earned a bachelor's degree in agri-business with a minor in economics from Northwestern Oklahoma State University in 1993 and graduated from a three-year program at the Graduate School of Banking in Boulder, CO., in 2002. He has been a banker since 1993.
Tell us about growing up and your family.
I grew up on a family farm in the Oklahoma Panhandle, spending many hours driving a tractor in the same field with my sister. I loved growing up there, was very active in 4-H as a youth and played any school sports offered. My father still
lives on the farm but is mainly retired now. My mother passed away five years ago after a battle with cancer. Both were very involved with their grandkids' activities and attended more of their events than I could count. My father has since remarried, and his wife, Ruth, shares the "farm life" with my father. I have a bachelor's degree from Northwestern Oklahoma State University in Alva, Oklahoma, in Ag Business and Economics and graduated from the Graduate School of Banking in Boulder, CO. I've also spoken at several conferences at the state and national levels.
I've been married to my college sweetheart, Michelle, for 29 years. We met in a college English class at NWOSU. We have three daughters: Shayden, a senior at Washburn University majoring in business and marketing; Shaybree, a sophomore at Cowley County Community College majoring in graphic design and Shaylynn, a senior at Elkhart High School.
How did you become a banker? Did you always aspire to be part of the financial industry?
I was fortunate to grow up on a family farm where we grew wheat, milo and some barley. We also had a cow/calf and
stocker operation. I decided to major in ag business and economics in college without having a real plan for what I would do after graduation. After several interviews with different companies, I was most intrigued by the idea of becoming an ag banker. That career would allow me to stay involved with production agriculture, return to a rural town to raise a family, and live close enough to the family farm to help out when necessary.
Describe your educational background. What motivated your educational choices?
I didn't really know where my classes at school would lead me or what my future held. I pursued a degree in agriculture but enjoyed finance and marketing classes in college. I also saw commodity marketing as an essential aspect of agriculture that many producers were missing. During college, I met with a local commodity broker to better understand the business and worked as an intern learning commodity futures.
Are there any specific individuals who had a major impact on your career? How?
Mike Peacock was an ag banker who banked my dad for most of his farming career. Mike and Dad truly trusted each other. I grew up during the 1980s, when farming and interest rates were very challenging. I'm sure there were difficult
conversations throughout the years, but I respected how Mike treated my father and how they worked together to grow our family farm. After many years of working together and many annual renewals, Dad's farm is debt-free, and Mike has retired from banking. The two have remained close friends ever since. I want to develop and grow similar relationships with my customers. Some have been with me for almost 30 years as well.
Dan Smith is the senior Ag Lender and Head of Lending at Heartland Tri-State Bank. Just out of college, when I came to
work at the bank, Dan was the senior lender. He has mentored me every day ever since. We developed our own ag lending software for farm renewals and have worked next to each other for many years. During that time, we've had many conversations about banking. More importantly, we've also talked about life and family. I owe my career and present position to Dan.
What is the most rewarding part of your career?
The best part is working with family farms and watching those families achieve their individual goals. Over almost 30 years, I've watched many customers enjoy many successes. Some went very smoothly; some took several attempts. It doesn't matter if the customer is a large commercial customer who we can assist in growing their business or a high school student purchasing and paying off his first vehicle. The satisfaction and personal pride customers feel when they achieve their goals is also my satisfaction because together, we made the correct choices to accomplish those goals.
How has retail banking changed in the last five years?
A colleague, Jim Edwards, past chair of ABA, made the following comment about a year ago: "Things have never moved this fast, and they will never move this slow again." That insightful realization has changed how I look at banking and finance.
There will always be challenges and opportunities. We've seen the growth and collapse of some digital currencies in the last five years. They could continue to be a game-changer for banks and customers. Even for a small community bank in a very rural area of Kansas, digital currency was a major discussion at our annual strategic planning session. The expectations and demands of customers will require bankers to be alert continually. However, we are responsible for the safety and soundness of our industry. We are required to be vigilant about protecting our customers and their data.
What ideas would you like to share about the future of the financial industry?
As Midwest bankers, we are humble creatures who rarely "tell our story" because we fear it will come off as "boasting." We need to improve our willingness to "tell our story" to everyone – our customers, communities, legislators and media sources. Banks and bankers play a pivotal role in our communities, regardless of the size of the bank or community. We are the financial leaders within our communities at a time when leadership is needed. We must be willing to step up and take on that responsibility.
Are there any leadership books you enjoyed?
• The Bible
• Lincoln on Leadership by Donald T. Phillips
• The Five Dysfunctions of a Team by Patrick M. Lencioni
• 24 Hours Inside the President's Bunker by Lt. Col. Robert J. Darling, U.S. Marine Corps (Retired)
What have been some major challenges in creating a balance between customer branch and digital-based transactions?
We care passionately about our customers and data security, so meeting customers' demands with safe and sound banking alternatives has been challenging. One would think that digital adoption would be much slower due to our rural customer base. While this may sometimes be the case to some extent, we have customers moving in that direction who expect their local bank to provide them with options. If we cannot, they will find a provider someplace else.
What is the secret to creating a culture within a banking organization where customer satisfaction is the focal point?
I'm not sure there's one secret to success for everyone. For us, we have made it a focal point to greet customers by name before they are inside the bank's door. We realize our customers have multiple options to bank. We want our customers to feel that we are genuinely glad they chose to bank with us, come to the branch that day, or communicate with us in another fashion. We stress this attitude and engagement at staff meetings and reward employees who go above and
beyond with customer service. To develop an atmosphere of customer service, I feel it must be exemplified by management, stressed to employees, and rewarded when exceptional customer service is displayed.
What is the biggest impact of being a KBA member? What makes it beneficial?
Engagement on every level. At times, a bank simply needs a question answered regarding an account. KBA is there to
provide that professional expertise to quickly and accurately answer the question so the banker can take care of the customer. Sometimes, a bank has an issue with a state law or regulation limiting its ability to serve customers or the community. Still, it doesn't have the knowledge or resources to produce change. KBA will gladly take that issue and discuss it with other banks to determine commonality; KBA has the expertise, knowledge, and resources to effectuate the change if needed. Lastly, banks across the country deal with matters at the federal level, both regulatory and legislative. KBA can join other state associations and ABA to engage nationally. We must engage in "telling our story" and become proficient at it if we expect to survive.
Are you involved in any civic or charitable organizations?
I am a member of Elkhart Church of Christ, the USD 218 School Board, Elkhart's Lion's Club, the Morton County Economic Development Board, the Morton County Chamber of Commerce and the Elkart Youth Center Board. I chair the Morton County Business Growth and Retention Committee and am the president of High Plains Health Foundation and Western Kansas Swim Club. Also, I help coach the Tri-State Triton Swim Team.
If you look back at your career and life, what would be three things you have learned that you would share with a younger person within the banking industry?

A young person who chooses to become a banker has chosen a great career with unlimited possibilities and options.
Banks and finance will continue to fuel the dreams of both individuals and businesses. Both will continue to look for
financing options. As bankers, we must have worked to gain their respect and confidence that we are the best option to help them achieve their goals and dreams.
First, take ownership of your responsibility to look after the best interest of both the bank and the customer. Second, be
dedicated to learning all options available to the bank and customer to offer a solution that will be successful. Last, be
prepared to make changes and alter course. Life has a way of throwing curves to the best-laid plans. Have a backup plan to help you regroup, alter course and proceed forward.
What are some professional moments that make you the proudest?
There are many. On top of testifying at the Kansas Statehouse multiple times, I've had the opportunity to testify to the U.S. House of Representatives twice, the U.S. Senate once, and once to the U.S. Treasury. I've served on the CFPB Community Bank Advisory Council. I've served on and been the KBA Educational Committee Chair, KBA Ag Division President, served on and been the ABA Ag and Rural Banker's Chair, and served on ABA's board of directors.
Was there an "aha" moment in your career that defined you?
When I was presented with the opportunity to create a bank holding company, formulate a group of shareholders, and
purchase the bank from its previous holding company. It was the most challenging and uncertain time of my professional
career. I learned many things during that process. I was blessed to have the confidence of an existing bank board director that we could purchase and successfully run the bank. After raising 100% of the necessary capital in short order, I realized that a community would come together behind a central goal if they believed in the leadership and understood
the business is essential to their community.
That event took place a decade ago. We have since acquired other institutions and more than doubled the size of the
bank. The success is 100% the result of having high-quality employees, officers, directors, and shareholders who believe
in a vision. I would have never asked for money from family and friends to purchase shares of a community bank if I didn't believe 100% in the potential of the bank and its employees and my responsibility to deliver on that promise.
What is your favorite way to spend your free time? Do you have any unusual hobbies?
I've had the opportunity to be involved with my children as they have grown. I've coached many rec teams and viewed all
those children as my own. The one sport that seems to have stuck with my family is competitive summer swimming. All three of our girls enjoyed great levels of success for a seasonal swim club. My wife and I are the Meet Referee and
Administrative Official in charge of running the meets each weekend throughout the summer. We volunteered as timers
at the first meet our oldest daughter attended, and we've been intimately involved ever since, for 15 years. I coached all three of my daughters for several years and now enjoy even greater satisfaction watching my daughter coach a team that includes her youngest sister.
My daughters also own a summer lawn-mowing business to earn money to purchase their first cars. Over the years, we
have spent countless hours in the evenings and weekends mowing yards and working together. I will never forget the
experiences we've had together simply mowing yards which takes me back to the many hours I spent with my father,
mother, and sister growing up on the family farm. The bonds I enjoyed as a child were passed down to my daughters because we found a way to work together.
While not helping on the farm as much as I should, I still enjoy it. My other hobby is woodworking. Each of my daughters
built their own desks as middle school students. It was great father/daughter time and taught them to run tools. Most of the furniture in our house was built in my shop, and I built the desk I sat at while buying the bank.
Do you have any last words for anyone reading this article? What would you like them to remember?
One of the benefits of being a teacher, as is my wife, is the ability to touch the future by educating the next generation.
As bankers, we can touch the future of the next generation of business leaders. Mike (Peacock) became a valued voice to
my father during the 1980s, and we can do the same now. We can engage with high school and college kids to encourage
them to consider becoming business owners. We can use our knowledge to help grow our local community. I'm proud to
be a community banker and am looking forward to serving as KBA chair next year. Kansas enjoys a wide variety of banks
and bankers who have always been willing to donate their time, knowledge, and expertise to further banking in Kansas.
I look forward to working with and learning from these individuals over the next year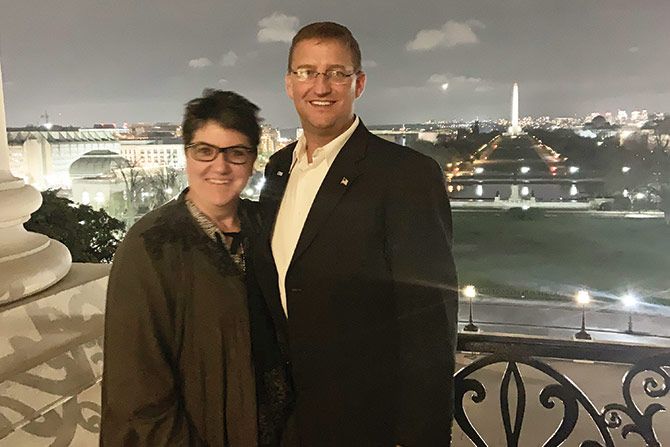 Shan and Michelle on the Balcony of Speaker of the House's Office overlooking DC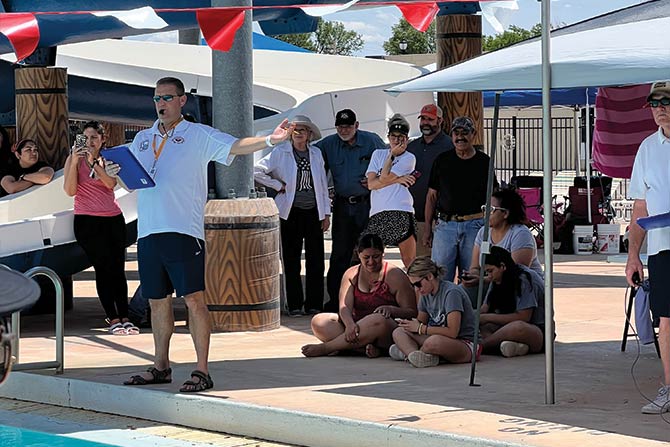 Shan Hanes, Swim Team Ref at Local Meet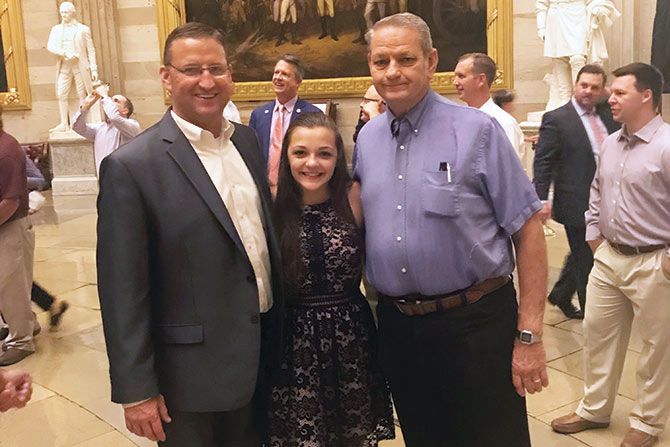 Shan, Shaylynn, and Darus Hanes (My Dad)- Rotunda room of Capital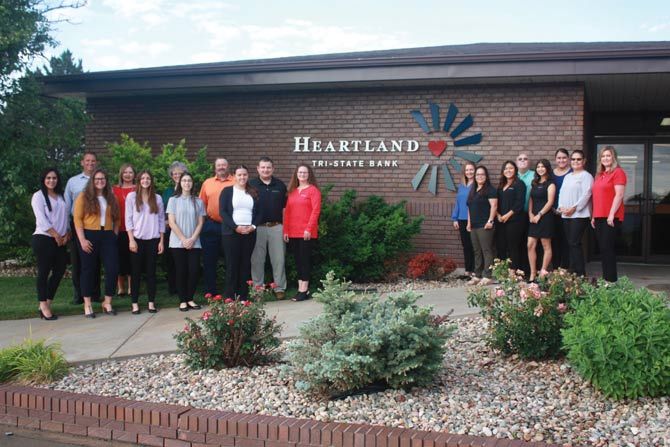 Left to Right: Rosa Molina, Shan Hanes, Minn.Li oewen, Traci Overpeck, Shaylynn Hanes, Lisa Sauls, Grace Sparkman, Jason McQueen, Shaybree Hanes, Trae Watson, Jackie Finn,
Mandy Burton, Martha Meraz, Karen Castillo, Dan Smith, Desarae Aranda, Jessica Hurn, Sonia Kelly, Gayla Lawrence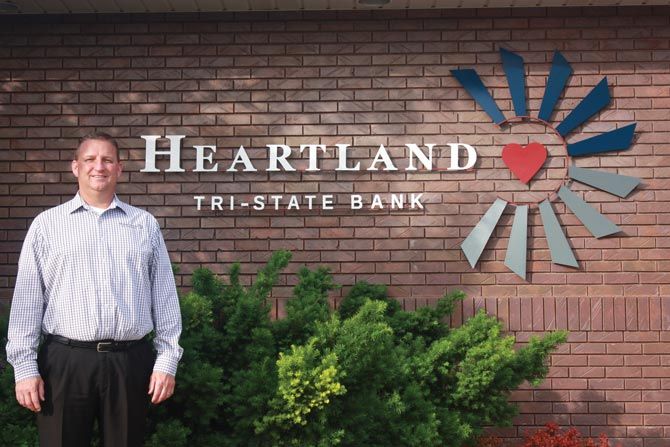 Shan Hanes, Presidentand CEO of Heartland Tri-State Bank, Incoming Chairman of KBA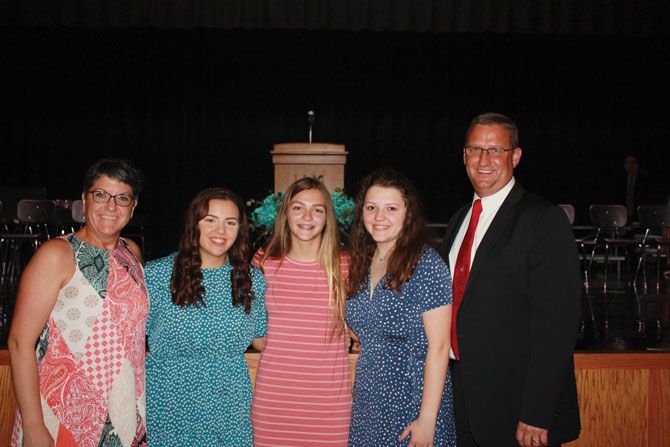 Michelle, Shaybree, Shaylynn, Shayden, Shan Hanes—Shaybree's High School Senior Award's night-2021