Will 2023 be the year we see an explosion of Fintech and community bank partners beginning relationships? The crackdown on revenue streams related to overdraft programs and consumer service fees may have financial institutions (FIs) thinking of generating alternate streams of noninterest revenue.
How does a community bank begin to explore the horizon of a Fintech partnership? Alex Lazarow, private equity investor and Fintech enthusiast, said he looks for these three "D's" in a Fintech startup: distribution, data, and delivery.1 He gives examples like embedded processes, affinity channels for distribution advantages, and better serving the customer with more customized offerings because you have data that reveals consumer behavior.
Lastly, he suggests delivering to the end user in a powerful way that helps provide the end user with the best possible experience. As an investor, Lazarow says he looks for products that have at least one, and preferably two, of the three D's. Fast-forward 10 months to Lazarow's reaction after the fall 2022 Fintech conferences, and he's on the fence: which advantage is most important, data or distribution?2
The Federal Reserve reported on community bank partnerships in 2021, placing Fintech types into three categories based on bank strategy: operational technology, customer-oriented, and front-end.3 An example of operational technology is real-time payments. Digital payments and real-time settlement are driving competition like never before in the financial services sector. According to a recent Bank Administration Institute (BAI) report, research shows one key characteristic a consumer desires from a deposit account is the availability of real-time payments.4 Within six weeks of connecting to a real-time payment network, one FI reported a 45% rise in real-time processing (RTP) transactions and a 61% increase in the number of customers receiving transactions.5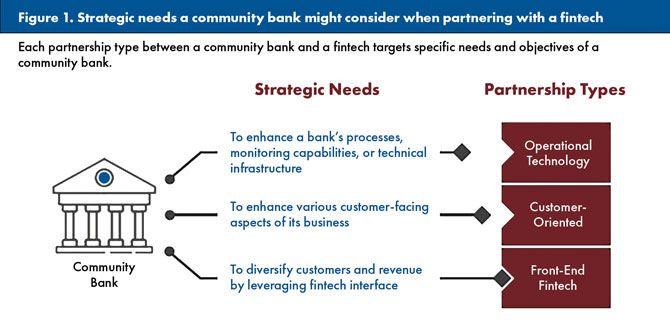 Front-end is sometimes referred to as Banking as a Service or BaaS. This type of partnership uses an FI's existing framework (deposit system, payment rails, etc.) and marries the Fintech's technology offering. Buy now, pay later (BNPL) service could be categorized as either customer-oriented or Front-End Fintech, or both, depending on the technology interface. The Consumer Financial Protection Bureau (CFPB) surveyed five lenders in this space who reported their BNPL loans grew from 16.8 million to 180 million from 2019 to 2021.6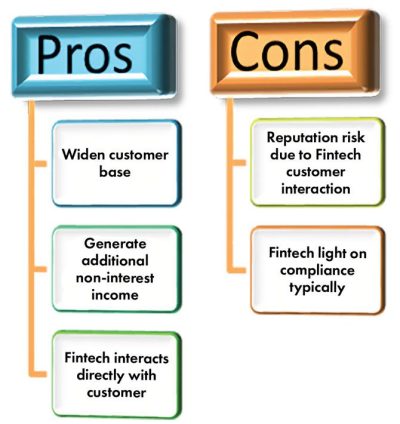 If you've determined what type of Fintech partnership your FI may need, what's your next move? There are conferences available nationwide that showcase different players in this space. A few organizations have a pay-to-play approach – those interested in and ready to make decisions now confirm attendance for a networking event like you've never seen before. Think of it as speed dating for Fintech partnerships: a choreographed waltz between bankers and entrepreneurs to discover if they are a match. Think Netflix's "Bridgerton" meets ABC's "Shark Tank." If you're not ready to dip your toes into the Fintech dating pool and want to take a more conservative approach, deep-dive workshops are available to assist with the vision and outlay of what a partnership may look like. Many of the larger Fintech providers have more information available on their websites if you want to go straight to the source.
FORVIS offers services on both the Fintech and the FI side as they relate to these partnerships. Reach out to one of our professionals today to learn how we can help you navigate this journey.
"Where fintechs will flourish in 2022," American Banker podcast, December 6, 2021.
Lazarow, Alex. "What Wins in Fintech: Distribution or Data?" Forbes. October 31, 2022, https://www.forbes.com/sites/alexlazarow/2022/10/31/what-wins-in-fintech-distribution-or- data/?sh=23b3515282cb.
Community Bank Access to Innovation through Partnerships, September 2021, https://www.federalreserve.gov/publications/files/community-bank-access-to-innovation-through- partnerships-202109.pdf.
Tran-le, Eric, "Managing the risks and rewards of faster payments." BAI Banking Strategies Executive Report, January 19, 2023.
Tran-le, Eric, "Managing the risks and rewards of faster payments." BAI Banking Strategies Executive Report, January 20, 2023.
Buy Now, Pay Later Market Trends Consumer Impacts Report, CFPB, September 2022.
This article is for general information purposes only and is not to be considered as legal advice. This information was written by qualified, experienced professionals at FORVIS, but applying this information to your particular situation requires careful consideration of your specific facts and circumstances. Consult a professional at FORVIS or legal counsel before acting on any matter covered in this update.