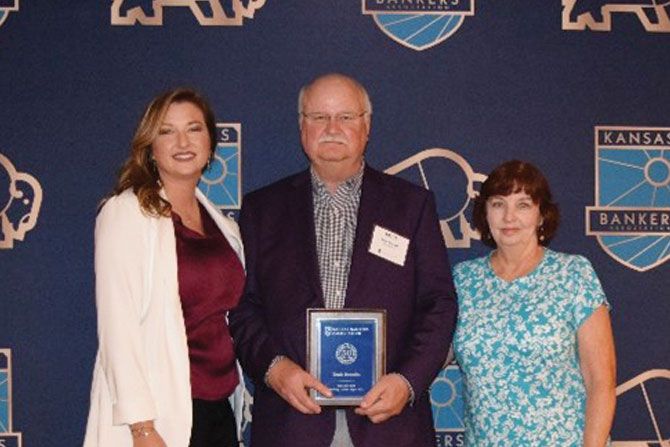 Ernie began his banking career as a Drive-up Teller in May 1971 at Kansas State Bank (now known as KS State Bank) in Manhattan until May 1975. He went to Manhattan High School and then graduated from Kansas State University in 1975 with a BS in Business Administration and Finance. At Bank of Kansas in Hutchinson, Ernie started as an AVP, VP, EVP and President and CEO from June 1975 to June 2008. Ernie then started his new positions as President, CEO & CFO at Redstone Bank in Centennial, Colorado, from July 2008 to January 2011. In February 2011, he moved to Heritage Bank in Topeka and was there until April 2020. At present, Ernie is the VP of Business Development at Bennington State Bank in Wamego and Salina, where he started in July 2020. Several highlights of Ernie's banking career include increasing Bank of Kansas's total assets from $19 to $100 million, increasing Redstone Bank's total assets (a de Novo) from $0 to $60 million and turning a new page to do business development in Manhattan where he grew up. Ernie's greatest challenge was bringing Heritage Bank (a four-rated bank) from the brink to a highly rated bank when he left. He is currently working with a group out of Lawrence to buy a bank in Northeast Kansas to preserve a rural community bank with expansion plans. He has been involved in Chamber in various cities serving on various committees, Rotary, Little Apple Brigade in concert with Fort Riley, Teacher of Finance at the Hutchinson Correctional Facility, Board Member of the West Loop Business Association and member of the Aggieville Business Association in Manhattan.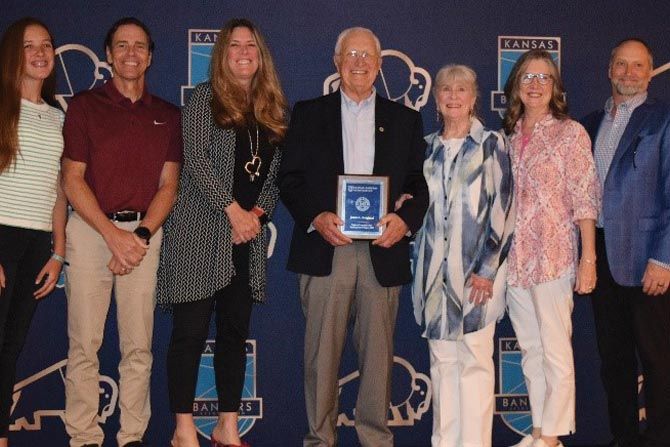 James L. "Jim" Berglund has dedicated more than 50 years to banking in Kansas and serving Kansas customers in leadership roles at Equity Bank and Sunflower Bank.
Jim Berglund served as President and Chief Executive Officer of Sunflower Bank in Salina, Kansas, for more than 20 years, helping the bank rebrand from First National Bank of Salina, and grow through a series of acquisitions beginning in 1989 throughout his tenure as CEO. Jim joined then-First National Bank in Salina, Kansas, in 1969 as a Vice President and Trust Officer, becoming an executive vice president in 1976, where he served until being named CEO in 1985. At the time of Jim's departure in 2005, Sunflower had 33 locations and $1.8 billion in assets in Kansas and Colorado and ranked No. 1 in market share in numerous Kansas and Colorado cities, including Sunflower's home base of Salina.
Jim joined Equity Bancshares, Inc., the Wichita-based holding company for Equity Bank, in 2007 as a member of the Board of Directors, with leadership instrumental to Equity Bank's credit culture, organic growth, and growth via mergers and acquisitions. Additionally, he served as a lending consultant and member of the board of directors of the State Bank of Osborne, Kansas.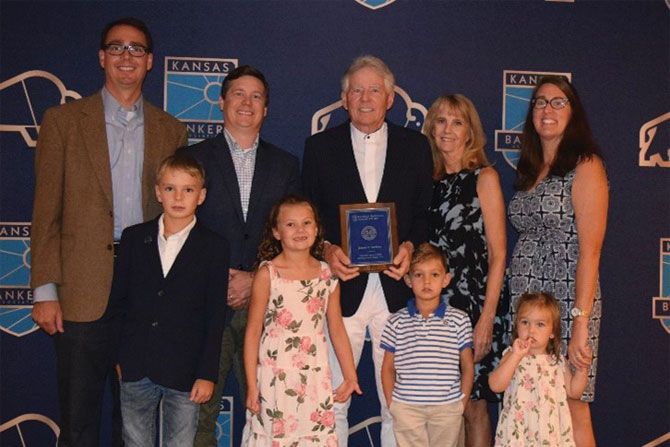 James graduated from Stockton High School in 1968 and then graduated from the University of Kansas with his B.S. in Business Administration in 1972. He began his banking career as Assistant Vice-President in May 1972 at Stockton National Bank in Stockton. He held numerous positions within different banks over the 50 years as Director of Rooks County State Bank from 1971 to 1993, Director of Farmers and Merchants Bank in Hill City from 1988 to 2013, Director of Trego-Wakeeny State Bank from 1988 to 2013, Director of Relianz Bank in Wichita from 2005 to 2015, Director of Bennington State Bank from 2015 to 2018 and Chairman of the Board of Solutions North Bank from 1998 to the present. Throughout the many community activities that James has been involved in, he has been in various chamber of commerce positions for Stockton, President of the Stockton Rotary Club, school board member and Treasurer of the National Omokxee Association. In his spare time, he enjoys traveling with his family and playing golf. Over his years in banking, James has enjoyed working with the people and employees he has the opportunity to meet as well as working with the family in the bank.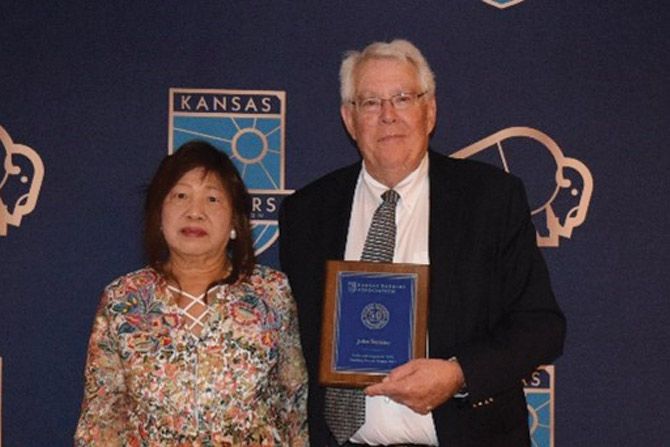 After graduating from Stockton Rural High School in 1964, John attended the University of Kansas for two years until he went into the military in 1966. He then finished up his degree at KU and graduated in December 1971. John started his banking career as Vice-President of Stockton National Bank (now known as Solutions North Bank) in Stockton in December of 1971 and was promoted to President in 1998. He retired from full-time bank work in 2007, and he currently serves as the Director of Solutions North Bank. Over the years of his career, he served as Director for several banks, including Rooks County State Bank (1971 to 1993), Farmers & Merchants Bank (1988 to 2013), Trego-WaKeeney State Bank (1988 to 2016) and Relianz Bank (2005 to 2015). John has been involved heavily in community activities, including as a member of the Veterans of Foreign Affairs, where he served as Quarter Master, local library board, congregational church board, member of the American Legion, and served on the Stockton Area Arts Council. In the past time, he enjoys playing sports and reading, including a collector of quotations of liberty. John has enjoyed working with people in the local community and helping them do whatever they wish with their financial goals has been a big takeaway for him.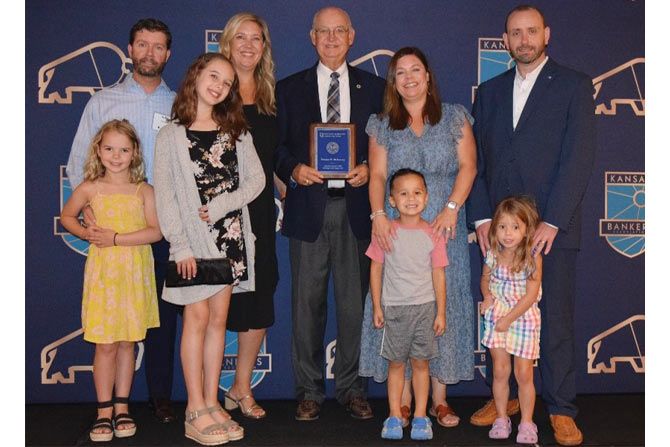 Congrats to Tom McGavran on his 50 years in banking! Tom began his banking career in August 1972 with the FDIC as a trainee, working out of the Emporia and Chanute field offices. All his time as an Examiner was spent in Kansas, examining Kansas banks. In April 1982, he joined Guaranty State Bank & Trust Co. in Beloit as Vice President & Managing Officer of the recently acquired State Bank of Delphos. At that time, he was also named Associate Director of the Guaranty State Bank & Trust Co. Board of Directors. In 1987, he was elected as Director and served on the Board for 40 years. In January of 1987, after putting a group together to purchase the State Bank of Delphos, Tom was elected the Chairman of the Board and President & CEO. Tom held these positions until March 2015. During this time, his bank quadrupled in size and added two locations in Glasco and Minneapolis. On March 31, 2015, his bank merged the State Bank of Delphos with its three locations into Citizens State Bank & Trust Co. in Ellsworth. Tom was named the Bank President for all three locations in Delphos, Glasco and Minneapolis, a position he still holds. He also serves as the Associate Director for the Citizens Bank & Trust Board.
Serving three terms as Regional Representative, Tom served on the KBA Board of Directors plus two years as Treasurer. Tom was Treasurer during the construction of the new KBA building. He served as President of KBA/Hodge & Porter after the KBA had successfully purchased the company. In 2020, he was awarded the KBA Ag Bankers Pioneer Award. He continues to serve on the Board of Directors for Guaranty State Bank & Trust Co.