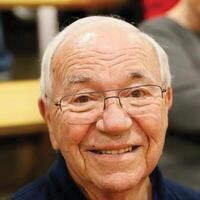 Jack J. Meyers
February 8, 1935–July 2, 2022
Jack J. Meyers, 87, died July 2, 2022, at the Hilltop Manor, Cunningham.
He was born Feb. 8, 1935, in Cunningham, the son of August E. and Frances Vierthaler Meyers. A resident of the Cunningham community most of his life, he was the Past President and Chairman of the Board of the First National Bank of Cunningham.
Jack served the City of Cunningham as City Clerk, council member, and Mayor over a 50-year period. He was a 66-year Charter member of the Cunningham Lions Club and the last living such member. He was very active in civic life and held positions far too numerous to mention, but among his many mostly volunteer positions, he was a member of the Cunningham PRIDE, State Pride Board, American Legion Post #114, Treasurer and member of the Sunflower RC&D, served on the Kansas-Nebraska School of Banking Board, Kingman Hospital Board, Board of Directors of Burrton State Bank and Citizens Bank of Kansas, and served many years as Chairman of the Board of the First National Bank of Cunningham, later named Ninnescah Valley Bank; he was a Director Emeritus. His passions in life were many, but he took tremendous pride in his yard and his professional career as a banker, and worked tirelessly over many years to make Cunningham a better place to live. He was so proud of his family whom he loved endlessly.