The 40th United States President Ronald Reagan once said, "We remember those who were called upon to give all a person can give, and we remember those who were prepared to make that sacrifice if it were demanded of them in the line of duty, though it never was. Most of all, we remember the devotion and gallantry with which all of them ennobled their nation as they became champions of a noble cause."
The American military has been breeding top leaders since the Declaration of Independence was signed. But once finished serving their country, many have headed to the financial services sector. They come from all branches of the U.S. military: Army, Navy, Air Force, Marines, Space Force and Coast Guard. They also hail from the reserves and National Guard. Following are bios of four Kansas bankers who served their country and are now serving their communities.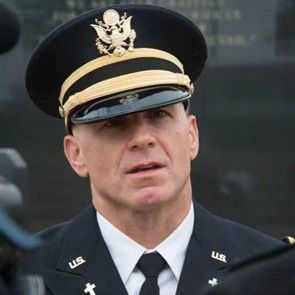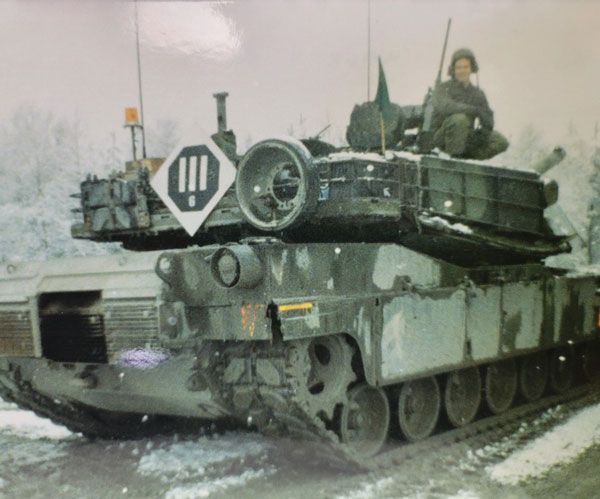 Jonathon Johnson, President & CEO Home Savings Bank, Chanute
Jonathon Johnson, President and CEO of Home Savings Bank in Chanute, enlisted in the ROTC while he was a student at Pittsburg State University. In May 1987, he was commissioned as a 2nd Lieutenant and went on active duty that fall. Johnson always had an interest in the military since childhood and has never regretted joining.
Some of Johnson's earliest memories came from attending the Airborne School in Fort Benning, Georgia. It came as a culture shock and mental head game as he and his fellow soldiers were pushed from sunup to sundown.
"Guess their plan was to make you so miserable that you would jump out of a perfectly good airplane," Johnson said. "Nothing like putting your knees in the breeze at about 3,000 feet."
Whether it was Airborne School, the Platoon Confidence Course or a broader rotation, the key for Johnson was to take everything one step at a time. He drew strength from his fellow soldiers and his wife, who was a key to the process and supported him through prayer and commitment.
Several of Johnson's jobs in the army included being a Tank Platoon Leader, Scout Platoon Leader during the late 80s (where he and his team were the last full armor rotation on the East/West German border) and then separated from the Army in the late 80s. He then served in the Army Reserves as a Troop Commander, later retiring from the Kansas National Guard after serving as a Battalion, Reserves Support Group and Division Chaplain.
"As a Chaplain, it was my greatest calling to serve and help soldiers navigate life stateside," Johnson said. "Some of my greatest highs and lows came during this time as I had the privilege to come alongside those who had served. The most tough times were navigating the challenges of suicide and the repercussions thereof. To look into the eyes of someone that served and now feels hopeless is burdensome, yet I am humbled and honored to have served. We should all pray and give thanks daily to those who served and are serving, and their families."
A family friend and mentor, Gary Cotterill opened the banking door for Johnson. He grew up watching Cotterill, as a banker in his community and worked for him on his ranch, where he witnessed a lifestyle of service that impacted many others. Johnson tries to emulate the example that Cotterill lived by.
The military shaped the way Johnson approached change, teaching him through experience to view change as an opportunity versus a problem.
"Through my time in service, I learned the opportunistic approach yields much more fruit than the inverse," Johnson said. "Military service shaped my decision-making process and outlook."
The banking profession has given Johnson the privilege to work with people, impact communities and change the trajectories of his surroundings in a positive way. To Johnson, few careers give one this privilege.
"In the capacity of a community banker, we are able to share life, our faith (my hope in Jesus) and our future with friends and family," Johnson said.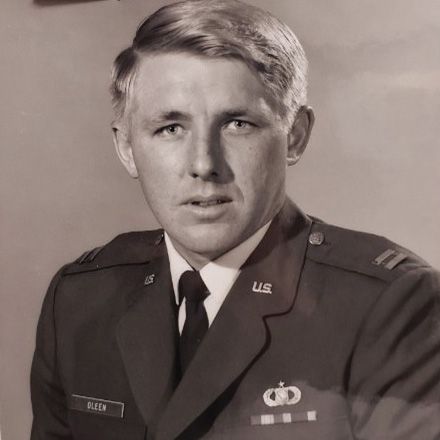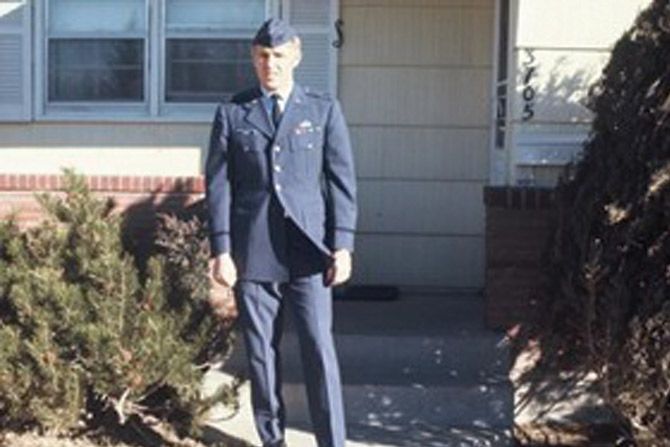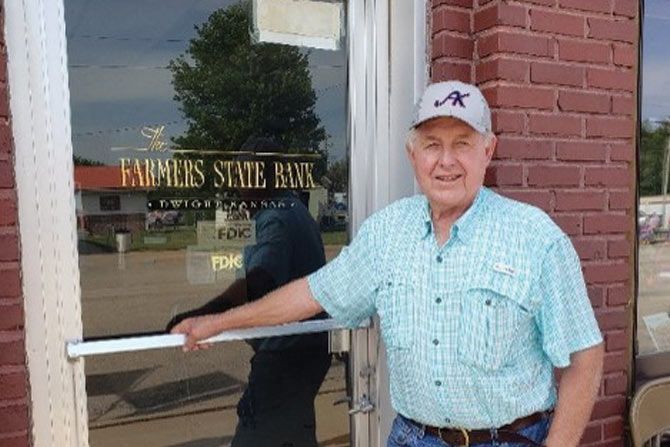 Jan Oleen, Chief Executive Officer Farmers State Bank, Dwight
Jan Oleen was born and raised in Dwight, Kansas, helping on his family farm, and after graduating from Dwight High School, he attended Bethany College in Lindsborg, Kansas. After he graduated from college in 1966 with his degree in business economics, he decided to enlist in the Air Force during the Vietnam War.
He passed all the qualifications to be a pilot and was feeling good about it, but then had been called back in to get his sitting height test, which determines how tall the pilot is sitting in the pilot seat and apparently he was too tall to sit in the jet for flying. Finding this out, the Air Force then made him a weapons controller.
"I didn't know what that was; I thought maybe I stood at the door and passed out pistols," Oleen said. "What that meant, though, was I was sitting behind a radar scope and controlled aircraft in the sky."
While Oleen was considering joining the Air Force, he had several other options, including being contacted by the Houston Oilers, Tennessee Titans and the Dallas Cowboys professional football teams to come and try out for them. But Oleen passed and decided to join the Air Force.
Oleen left for training on Jan. 2, 1967; he spent a year at Naval Air Station Fallon. After completing his training, he deployed to where he spent 12 months in Japan on Okinoshima and Okinawa Islands. Upon his return to the U.S., he was assigned to Great Falls, Montana, where he spent the rest of his time in the Air Force. He felt his four-and-a-half years in the military were his best education because he had run across many things he had never experienced before.
"The military is a good educational tool," Oleen said. "It helped me, and I have no regrets that I served."
Once he left his service, Oleen left and went back home to work in his hometown bank, Farmers State Bank. His father had come to Dwight when he was 19 years old and said he'd work at the bank for nothing for a month if he could get a job. Once he had worked the month, he received the job at the bank and worked 76 years serving his customers and community.
Oleen's Air Force experience has helped his career in banking by helping in his decision-making. He holds the roles of many positions, such as a loan officer, the loan committee, and more.
"You have to make tough decisions," Oleen said. "People come in, and I may be sitting in the morning drinking coffee with them to get our community communications and then two hours later, we're sitting here in the bank trying to make hard financial decisions. And I've decided that no decision is worse than the wrong one."
Oleen not only worked at the bank, which just celebrated its 100th anniversary, but he also ran his farm full time. He often had to run back and forth if cattle got loose or if he had to do errands on the farm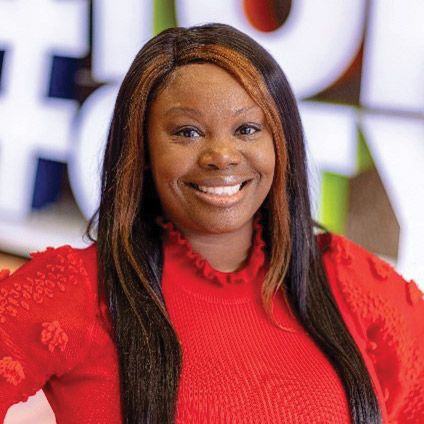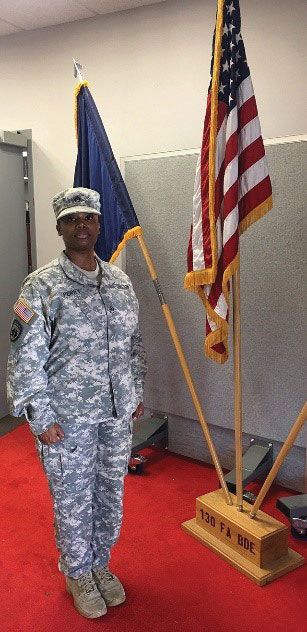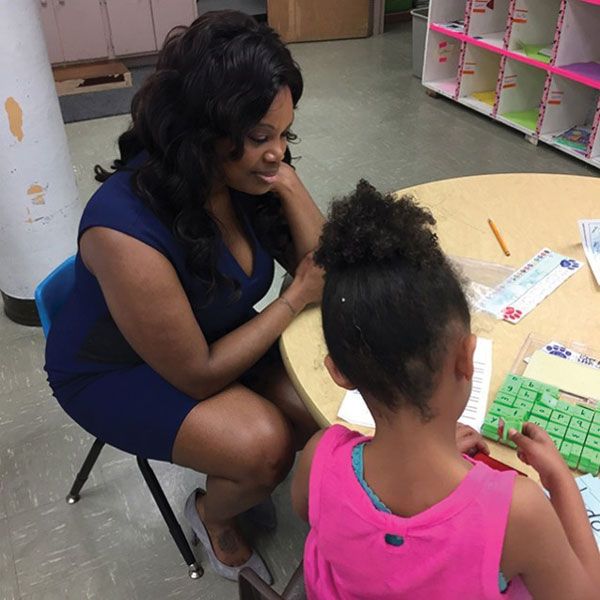 Desiree Perry, Senior IT Security Analyst Capitol Federal Savings Bank, Topeka
Desiree Perry, Senior IT Security Analyst at Capitol Federal Savings Bank in Topeka, enlisted as an E2 in the Army in 2004 while living in Fayetteville, North Carolina. Desiree's inspiration for joining the military included her family — her parents, uncles and some cousins had all served — but it was also a good civic duty.
She went into the military intelligence field as an All-Source Intelligence Analyst, and her first duty station was in Seoul, South Korea. This job included taking all sorts of data to create a bigger picture for the commander.
By the time she left Korea, she was an E4 Corporal stationed in Hawaii for seven years. Desiree was stationed in multiple areas, including Korea, Hawaii, the Philippines, Kuwait, and Fort Riley in Kansas. The highest rank Perry obtained was as an E6 Sergeant in 2010, and she had the opportunity of being a Platoon Sergeant and an Equal Opportunity Representative for over 200+ soldiers.
"A lot of the temporary duties that I had to do, we went to a couple different countries, and it was always nice in my down time to travel and explore in that city or country where we were," Desiree said. "So, I really tried to make a point no matter where I was to invest myself in the local restaurants and events that were going on. Anything that would expose me to their culture and especially food, everyone loves food."
Hawaii was a contender of all the places she had been, but Southeast Asia was one of Desiree's favorite places. In their culture — family comes first — and she liked to see family come together and be there for each other.
"I really like the family aspect," Desiree said. "The other thing I learned was more relative to your work life — harmony. Like in Hawaii, they call that Hawaii Time, where they come and get the job done but also be respectful that other people need to take care of themselves with downtime."
After being on active duty for 12 years, Desiree decided to get out of the military and wanted to make way for herself. While she was running a business out of Manhattan and Topeka, a job opportunity from Capitol Federal came along for a Security IT Analyst.
"Coming from a military background, it was a huge transition going into corporate," Desiree said. "I definitely had to learn about some of the processes and actions that are unique to the banking industry and how that would affect the way I would do my job as a security analyst."
Desiree said that the military fast-tracked her in the soft and technical skills she needed for her position in banking, like creating presentations, commanding rooms of people or talking to large groups of people and conveying ideas in a concise manner. She has also enjoyed volunteering for her community with groups like Topeka Forge since November 2021, allowing opportunities to network with other young professionals, gain exposure to business and community leaders, develop personal branding, gain experience, and access to exclusive events.
"Giving back to the community is something that I had been wanting to do for a really long time," Desiree said. "I really appreciate being able to be creative and getting that feedback on different events that we put together and working with people in Topeka too."
Desiree felt that overall, the military has been a great stepping stone for her personally and professionally and has paved the way for what she is doing now and what she will do in the future.
"If anyone is thinking about joining, if they can, then they should," Desiree said. "I do feel like it's a civic duty if you can join; I feel like you should."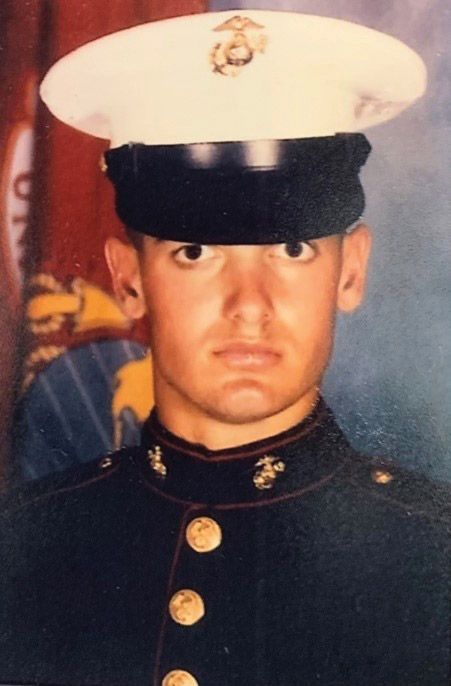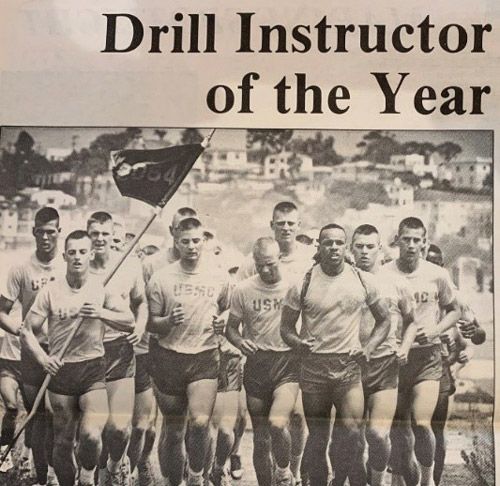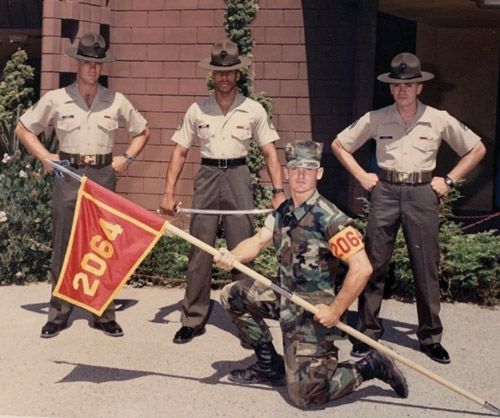 Doug Wareham, President & CEO, Kansas Bankers Association
Doug Wareham, President & CEO of the Kansas Bankers Association, enlisted in the United States Marine Corps during his freshman year at Kansas State University. Just three days after wrapping up his first year of college, Wareham headed to Marine Corps Recruit Station-San Diego to begin the 13-week basic training process.
Wareham knew going into college that he wanted to join the Corps because his brother was already a U.S. Marine, serving as a security specialist with the Marine One Helicopter Squadron during the terms of President Reagan and the senior President Bush. "I saw how the Marine Corps instilled discipline and confidence in my brother Rob, and I simply wanted to follow in those footsteps," shares Wareham.
"Boot camp turned out to be a very rewarding and impactful experience for me," Wareham said. "It gave me the opportunity to be trained by the most intense and effective leader that I ever witnessed up close, and that was my senior drill instructor, Staff Sergeant (SSGT) Byron Harper."
Near the end of their 13-week training experience together, Harper was selected as the top drill instructor for the entire Marine Corps. Wareham described Harper as the epitome of a great Marine. He was disciplined, intelligent, decisive, and forward-thinking and never lost sight of the mission. He practiced perfection, and that's what he expected.
SSGT Harper also had no problem weeding out those who didn't meet his standards. Wareham's basic training platoon started with 98 recruits, but only 72 earned the title of Marine. Harper's impact not only brought accolades for himself when he was named the top drill instructor in the entire Marine Corps, but it also led to Wareham being recognized as the Honor Man (top graduate) for not only his platoon but for Fox Company, which was comprised of 590 Marines who graduated in the late summer of 1988. "SSGT Harper taught me to always think two steps ahead of the current situation," states Wareham. "He led by example, and that example made you believe anything was possible."
Following basic training and a stint at the Marine Corps Communications School at Twenty-Nine Palms in southern California during the fall of 1988, Wareham returned to Kansas State University and was assigned to the 24th Marine Reserve Regimental Command headquartered in Kansas City, Kansas. It wasn't until Saddam Hussein invaded Kuwait in 1990 that he would be called back into active-duty status, where he would first travel to Camp Pendleton in southern California for training that led up to his deployment to the Middle East for Operation Desert Shield/Desert Storm.
Wareham's primary role while deployed was as a radio operator, driver and security team member for Colonel George German, a veteran of two combat tours in Vietnam, that served as the Regimental Commander overseeing approximately 2,000 marines serving in Iraq, Kuwait, and Saudi Arabia.
"Being a part of Operation Desert Shield/Desert Storm cemented lifelong relationships with the Marines I served with," Wareham said. "Military service is about being part of something that is much bigger than yourself, and I was honored to have that opportunity to serve with an incredible Corps of men and women."
Aside from deploying overseas, Wareham indicated the coolest thing he had the opportunity to do while serving in the Marine Corps was attending a mountain warfare school in northern California, located in the Sierra Nevada Mountains. This school involved rock climbing, rappelling, and crossing a raging river. Wareham recalled starting every morning at roughly 5,000 feet and humping with a heavy load to an outdoor classroom at 10,000 feet. "It was a great weight loss program," states Wareham. "I think I lost 15 pounds during those two weeks, and I was already pretty lean."
After graduating from K-State with a bachelor's degree in Ag Education in 1992, Wareham remained in the Marine Reserves for two additional years and expressed great appreciation for his employer, who never blinked when he had to leave work early for a weekend of training, or he departed for his annual two-weeks of summer training. He obtained the rank of Sergeant before being honorably discharged in 1994.
"The lessons I learned while serving in the Marine Corps have served me well in every position I've held, including my leadership role at the KBA," Wareham said. "It is imperative for any organization, including the Kansas Bankers Association, to stay true to their mission and to remain disciplined, vigilant and I'm determined to accomplish that mission."